Studio Tarang
We architect a space that facilitates cultural orientation and mythology as the means of education. The team at Studio Tarang shares the optimism and the power of stories backed with scientific research and moral values to heal the harms of the digital era's downsides and unethical societal conditions. We believe in the holistic development of a child since the formative years; hence we focus on subjects such as Maths, History, and Languages in our weekly classes and workshops. Moreover, the team is inclined to usher in the lost touch of Hindu culture and mythology as a medium of education. Therefore, we design and trains kid through DIY Art kits and Shlokas from Vedas, Puranas, and ArthShashtras. We provide a range of art activities with pedagogical values.
Our Vision, Mission and Impact
Our vision is to be a global chain of infrastructure contributing to more meaningful and enriched young minds and lives.
We aim to develop children into lifelong learners and create a compassionate society with flourishing careers.
Our work is supported by CWE with Start-Up Karnataka and KTECH Innovation Centre, Mysuru, and recognized by WEDO Hyderabad.
Our efforts are featured in prestigious magazines such as Yellow Giraffe, Baby Chakra, Bangalore Insider, Mompreneurs Worldwide, The Womenz, and E She The Female Gaze.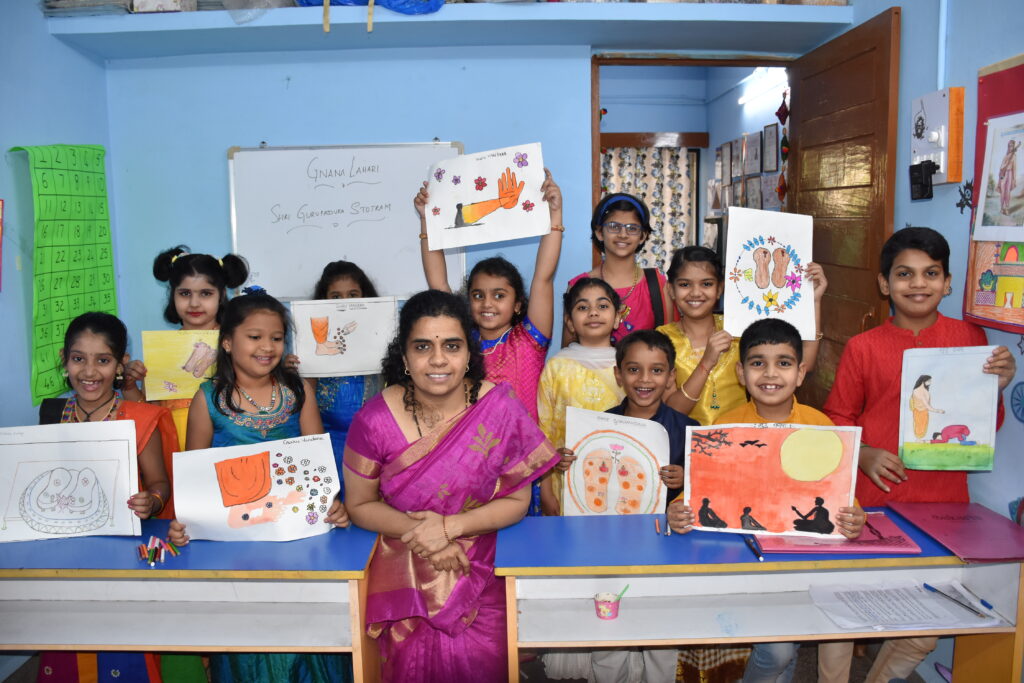 HOW OUR STORY BEGAN
Studio Tarang is the brainchild of Rashmi Kulkarni. Studio Tarang is an art studio and brainchild of Rashmi that underlines Education Through Art. She is pursuing her PHd from Benaras Hindu University at present on topics of Indic Culture and Heritage. She backs up with 18years of experience in HR and Admin field working with various corporates in Bangalore. The lack of a proper infrastructure advocating arts and mythology at schools and home irked Rashmi to take a step ahead in the unknown to fuel her passion. So, being a contributor and an architect of a pedagogy that inspires children to learn emotional intelligence and moral compass along with the skills of the 21st century, she rolled her sleeves and materialized the Studio that inspires fun learning through the medium of art and mythology.
She believes in bringing a paradigm shift in today's digitally occupied world but also builds a refreshing niche wherein kids willingly learn traditions and cultures of various religions by story-telling, puppetry, Shlokas. She brings the essence to her teaching methods and DIY kits. A well-travelled human, she is inclined to build a compassionate society with a dollop of modern trends to make her activities engaging. Moreover, the unique programs provide innovative methods and approaches that address the critical needs of children by integrating education with an environment that promotes learning, playing, and exploring. Also, the team supports the child's individuality and helps them realize their growth potential. In addition, the dynamic team provides a positive, curious environment for children to explore the visual arts. Tarang aims to facilitate quirky and engaging ways to introduce your kids to mythology and arts. We design DIY Art kits for Schools and NGOs.